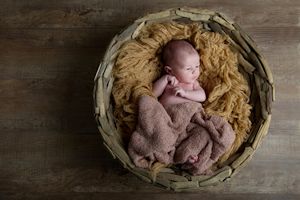 Newborn & Portrait Photography
Newborn Baby Photography

Bury St Edmunds
Newborn babies first portrait session. Capture those first couple of weeks of your babies life through a series of natural portraits.
We can visit you in the comfort of your own home or we have a home studio with ample parking in Bury St Edmunds. Typically we take approx 10 different 'looks' by using a selection of poses, natural linens, wools and posing props for variety. We take several shots within each 'look' so you will get a good selection of images to choose from. Included in these 'looks' are a couple of family portraits and close ups of your baby to capture all those little details and wrinkles that soon disappear. Each edited image will be provided in both a colour and B&W version.
We charge £55 for a 2-3 hour portrait session, allowing time for your baby to be truly relaxed between shots. Its all about the comfort of your baby.
This cost includes the 2-3hr portrait session, several hours of post processing and one high quality digital file of your favourite image from which you can make prints as required.
You'll be able to view the whole shoot on a secure web gallery from which further purchases can be made.
Each images digital file can be purchased for an extra £20, or the whole shoot on a usb stick for an extra £90.
Extra usb sticks for friends and family can be purchased for £20 each.
Please contact us to check our availability around your due date and to discuss your requirements.
Portrait Photography

Bury St Edmunds
Candid, relaxed and contemporary studio setting at your home or portraits on location.
Prices start at £85 for all edited images on a usb stick, please contact us to discuss your requirements and for an exact quote.