Mark & Sally's wedding, Robin Hood Bay, 7th May 2012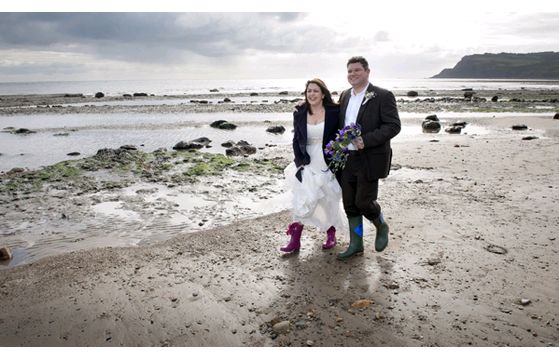 What an amazing and unique wedding in picturesque North Yorkshire.
The day started with the guests walking around the headland from their accomodation, along the beach and up into the lovely village of Robin Hood Bay. The ceremony was held in the Old Chapel with amazing views over the bay, followed by a short winding drive in an old vintage bus to join the steam train at Grosmont Station.
The guests were treated to a very tasty cream tea in a recently restored Pullman carriage as the train travelled to Pickering were the bus met us to take us into Whitby for the best fish and chips ever at Trenchers restaurant!
A truly wonderful wedding for a lovely couple.